Did You Know?
Maine Ice Data
Did you know that you can participate in collecting community science data? Lake Stewards of Maine tracks ice-in and ice-out on lakes throughout the state. This does not require special equipment or certification, just your time, thoughtfulness, and willingness to help! To get involved you can go to Lake Stewards of Maine's Ice Data Page and read more about the program.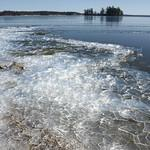 Sebago 5786 Photo by Claudia & Phil Lowe
Lake Stewards of Maine monitors, ice-in (the time when ice covers the lake surface), partial ice cover (a transitory stage on the lake, either ice has melted on a warm winter day or ice has developed on an especially cold autumn or spring day), and ice-out (when ice no longer covers ~90% of the lake, or is insubstantial). Click here to see the data collected this year. To see historical ice data please contact stewards@lakestewardsme.org.
Submit data here and thank you!
Click here for previous Did You Know? stories