Featured Lake


Long Pond (Kennebec County)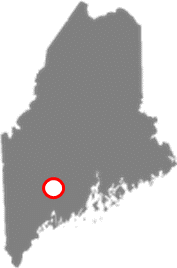 About Long Pond
There are 27 "Long Ponds" in Maine (and 6 "Long Lakes"). One of these is located in the Belgrade chain of lakes (it is fourth in the chain sequence).
Long Pond (Belgrade, Mt. Vernon, Rome) is a 2,557-acre lake, divided into 2 distinct basins. The "deep hole" (106 ft / 32 m) is in the southern basin.
This lake has 20 fish species, including the invasive northern pike (Esox lucius), as well as both black basses.
The Kennebec Highlands (ME Bureau of Parks & Lands) lie to the west of the upper basin, while the Belgrade Regional Conservation Alliance manages lands along the southern basin (CLICK HERE for map)
Water clarity has been measured in this lake since 1970; the overall average Secchi depth during this period is 6.3 m (21 ft) - a value which is in the mid-range of surveyed Maine lakes.
Discover more about Long Pond HERE.
Click here for All Featured Lakes