What's New?


Maine Audubon Loon Count: 2020 results & plans for 2021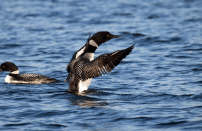 The Maine Loon Project has worked for more than three decades to assess the status and safeguard the future of Maine's loon population. As part of this project, Maine Audubon works with over one thousand residents and partners statewide each year to conduct the Maine Annual Loon Count--a census of the Maine breeding loon population that has taken place on lakes and ponds throughout the state on the third Saturday of July every year for the last 37 years. And 2020 was no exception. Last year, 48 volunteer regional coordinators and 1,347 participants overcame challenges posed by the pandemic to safely survey 308 lakes and ponds across the state--sixteen more lakes than the previous year! The observations recorded by community scientist volunteers provide an annual "snapshot" of Maine's loon population, which allows Maine Audubon to calculate an annual population estimate and track trends over time.
Click on Show More, and click on the icons, below, to find out more about the loon surveys!
If you are interested in participating in the loon count, contact conserve@maineaudubon.org or click here for more information.