Previous Lakes of the Month
February-March 2020 Lake of the Month
Ellis Pond is so good (props to the engaged Ellis Pond community!) we kept it for not one, but two months!
About Ellis Pond:
Located in the towns of Byron and Roxbury, 919-acre Ellis Pond (also known as Roxbury Pond & Silver Lake) has a maximum depth of 43 feet
Water clarity has been measured here every year since 1990 (with additional data from 1982).
Lake stewardship is alive and well in the Ellis Pond community! The Silver Lake Camp Owners Association conducted two extensive citizen lake watershed surveys during the past two decades, each followed by mitigation projects, in which sources of runoff and erosion documented in the surveys were resolved. The Ellis Pond Sidekicks are also very active in lake stewardship. LSM Certified Lake Monitor, Ross Swain has been checking the health of the pond for 25 years. Recently, he documented the development of a brief, late season (October) algal bloom, which sometimes occurs when a lake "turns over" (de-stratifies or mixes). Such events may be an early warning sign that lake water quality is vulnerable to a change.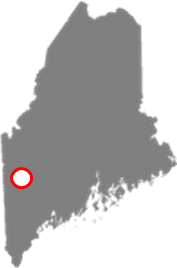 January 2020 Lake of the Month
About Branch Lake:
2942-acre Branch Lake lies in the Union River watershed in Hancock County.
This 124-ft-deep (38-m) lake is the public water source for the city of Ellsworth.
Water clarity has been measured here since the early 1970s.
Branch Lake is one of over 330 Maine lakes with records of ice-in / ice-out dates.
Currently, LSM intern, Sarah Hammond is conducting a project in which she is surveying Maine's citizen lake scientists to learn more about changes in ice-in dates. To learn more about this project (and participate, if you wish), go HERE.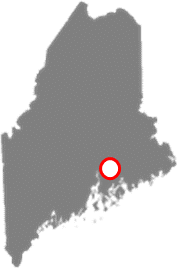 December 2019 Lake of the Month
About Long Pond:
There are 27 "Long Ponds" in Maine (and 6 "Long Lakes"). One of these is located in the Belgrade chain of lakes (it is fourth in the chain sequence)
Long Pond (Belgrade, Mt. Vernon, Rome) is a 2,557-acre lake, divided into 2 distinct basins. The "deep hole" (106 ft / 32 m) is in the southern basin
This lake has 20 fish species, including the invasive northern pike (Esox lucius), as well as both black basses
The Kennebec Highlands (ME Bureau of Parks & Lands) lie to the west of the upper basin, while the Belgrade Regional Conservation Alliance manages lands along the southern basin (MAP)
Water clarity has been measured in this lake since 1970; the overall average Secchi depth during this period is 6.3 m (21 ft) - a value which is in the mid-range of surveyed Maine lakes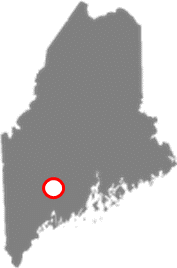 November 2019 Lake of the Month
About West Pond:
167-acre West Pond is located in Parsonsfield. It is relatively shallow, with an average depth of 10 feet.
Invasive curly-leaf pondweed (Potamogeton crispus) was confirmed to be growing in this lake in the spring of 2004. The key to getting ahead of this invader is to harvest it early in the season, before new winter buds, or turions, develop. (Once formed, each turion—which may remain dormant in the sediment for several years—is capable of sprouting a new plant.) With fifteen years of experience under their belts, much hard work and determination, and some help from the DEP and others, West Pond Association has succeeded in significantly decreasing the infestation, and remains fully committed to the effort. According to WPA President (and major force behind the control effort), Dennis Spinney, "we lost a bit of ground in 2019—likely due to an emergence of dormant turions—but we just doubled down on our control efforts and we are hopeful that this will pay off."
This is a warm-water fishery—including both largemouth and smallmouth bass, and black crappie.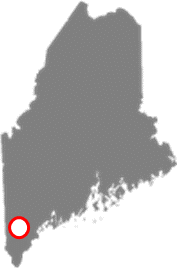 October 2019 Lake of the Month
About Jordan Pond:
186-acre Jordan Pond is a lake of superlatives. Located in the heart of Acadia National Park, it surely is one of the most-visited lakes in Maine. Visually, it is also one of the most stunning of lakes
On only 3 dates have measured water transparency (Secchi) values in any Maine lake exceeded 65 feet (20 meters) - all 3 dates are from Jordan P. (1991 and twice in 1999)
The steep sides of this lake plunge down to a maximum depth of 150 feet
The cold-water fishery focuses on Brook trout, Lake trout and Landlocked salmon - there are 10 other fish species and over 14 species of aquatic plants